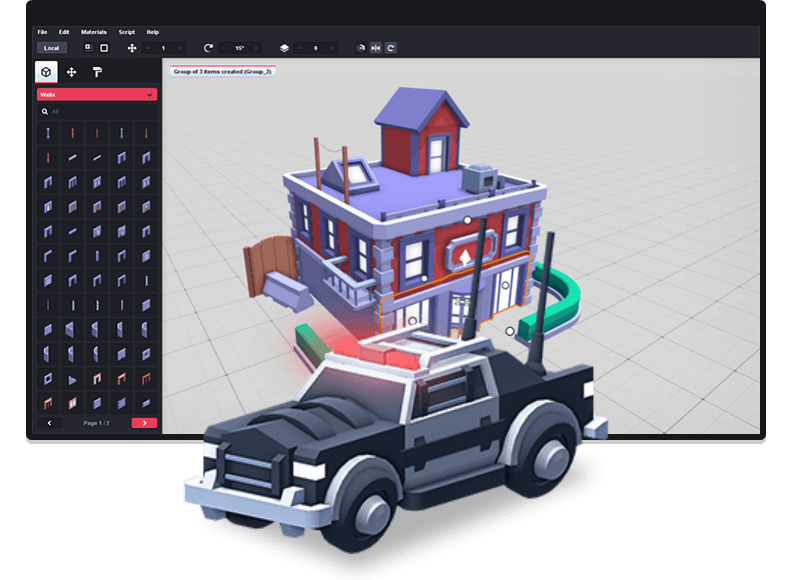 Asset Forge
Using Asset Forge, anyone can create 3D models and 2D sprites for their games. The models are compatible with the vast majority of game engines that are available on the market today.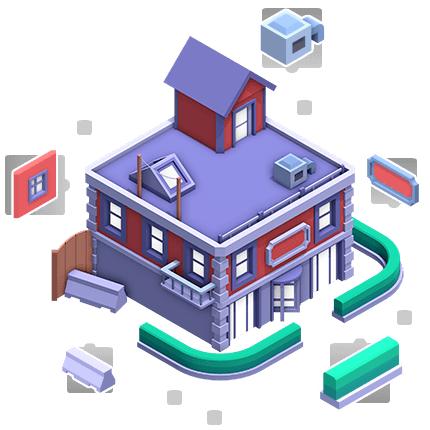 How it works
There are currently over 900 pre-made blocks available, which are categorized into different sections. You can place an unlimited number of blocks in your creation, which can then be exported and used in any game engine you choose.
Position, rotate, mirror and resize blocks
Export to common 3D file formats (see below)
Render your model as a 2D sprite
Apply colors, materials and textures
Batch export a sprite in multiple directions
The exported models are compatible with most game engines including Unity, Unreal Engine, Blender and ThreeJS. The 2D sprites (PNG) are compatible with all game engines that support sprites.
Platforms
---
Windows, Mac and Linux
Free updates
---
For Asset Forge 1 & 2
Support
---
Most game engines supported
Create
---
2D sprites + 3D models
What game engines support Asset Forge creations?

Asset Forge has the ability to export as various 3D formats including OBJ, FBX, DAE (Collada), STL and glTF. Most game engines including Unity, Unreal Engine and Godot support one or more of these formats.

What blocks are included in Asset Forge?

You can view all available blocks here (scroll down).

Does Asset Forge support custom content?

Yes! You can create your own custom blocks using other 3D modeling tools (like Blender), create custom textures and use Lua to create custom scripts.

Can I upgrade to the deluxe version if I already own the standard edition?

Yes, visit this page and you will receive a 50% discount which is more or less the price difference between standard and deluxe.

Does Asset Forge require an internet connection or include some form of DRM?

Asset Forge is completely DRM-free. This means you can create local back-ups, you don't need an internet connection after downloading and it's yours to keep forever. This unfortunately also means we can't offer refunds (other than the software not working as intended) since we can't revoke access to the software. Feel free to contact us before purchasing with any sort of question you might have.

What's the license for creations made in Asset Forge?

The creations you make are your property and you can use them in personal, education and commercial products. There's no need to credit Asset Forge, the included blocks are public domain.

"Even with minimal artistic ability you should be able to get great results from Asset Forge very quickly."

"Asset Forge has found a place in my everyday workflow as a simple, easy way to create 3D assets."

"Asset Forge, a seriously useful program to help anyone make models and sprites for their games."

Standard
Includes all features plus free updates for all platforms
Invisible
Buy for $19.95
(One-time payment at Itch.io, DRM-free1)

Deluxe
Includes all features plus free updates for all platforms
+ 10% additional blocks
Buy for $39.95
(One-time payment at Itch.io, DRM-free1)
1 As our products are DRM-free, we cannot revoke access at any time. If you have downloaded the product, we cannot offer refunds, unless the product fails to function as advertised.